Christina Graf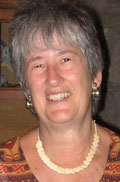 Christina (Tina) Graf, President and Founder of FLOURISH!, is an independent organizational development and change consultant who partners with clients seeking to make the most of their human resource capacity to achieve their organizations' goals.
Her practice focuses on helping organizations to articulate their core values, define a strategic direction, develop a workable implementation plan, and build effective teams to carry out the plan. She believes that the intelligence to seize opportunities and move forward resides in each organization. The goal for each client engagement is to bring out the best in all involved.

Flourish! clients come from the corporate world (an international hotel corporation, a major Venezuelan oil company, a start-up software design firm, a health care group), as well as from the nonprofit world (international relief agencies, arts organizations, faith-based groups, AIDS service organizations, and a university library). Graf works with nonprofits ranges from board and staff retreats to business process redesign to worldwide visioning. She also works with coalitions of organizations who come together to pursue common goals across their organizational and disciplinary boundaries.

Prior to founding her own firm in 1994, Graf guided client organizations in business process reengineering (blending new technologies, human resource practices, and efficient work processes, to bring about successful organizational change) as a consultant with CSC Index, Inc., in Cambridge, MA. Her professional background also includes foundation grant making and high technology sales and management.

Graf holds a master's degree in public and private management (MBA equivalent) from the Yale School of Organization and Management. Her AB degree in French Language and Literature is from Oberlin College, where she earned a Phi Beta Kappa. She is certified to administer the Myers Briggs Type Indicator.