Go Flourish!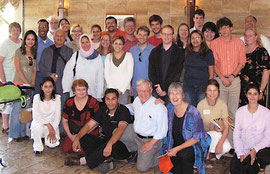 FLOURISH! is an organizational development
and change consulting firm dedicated to bringing out
the wisdom of people for collectively beneficial outcomes. Our consultants partner with clients in planning and executing conversations and projects that tap diverse talents, design a focused journey, and result in clear direction and practical results. Each engagement is customized to a given group's needs and culture, ranging from a one-time event, such as a board or staff retreat, to a mid-size undertaking, like an organizational assessment or strategic planning effort, to a longer-term organizational change effort.
Recently, experience partnering with other consultants bringing complementary skill sets and perspectives has proven extremely enriching for clients. We recommend consultant pairs for complex undertakings and/or situations where diversity issues are central.
Let us work with you on…
Strategic planning that coordinates vision, values, and mission with action plans and measurable results
Design and implementation of integrated change strategies
Leadership alignment to achieve organizational priorities
Teambuilding to maximize individual and group contribution and build agreement and momentum
Executive coaching on implementation of strategic directions
Planning and facilitation of staff, board, and all-organization retreats
Workshops on specific topics, such as adapting to change, welcoming diversity, team decision making, and coaching skills